Celebrating a new house and a new baby
Mayfields, Glenmavis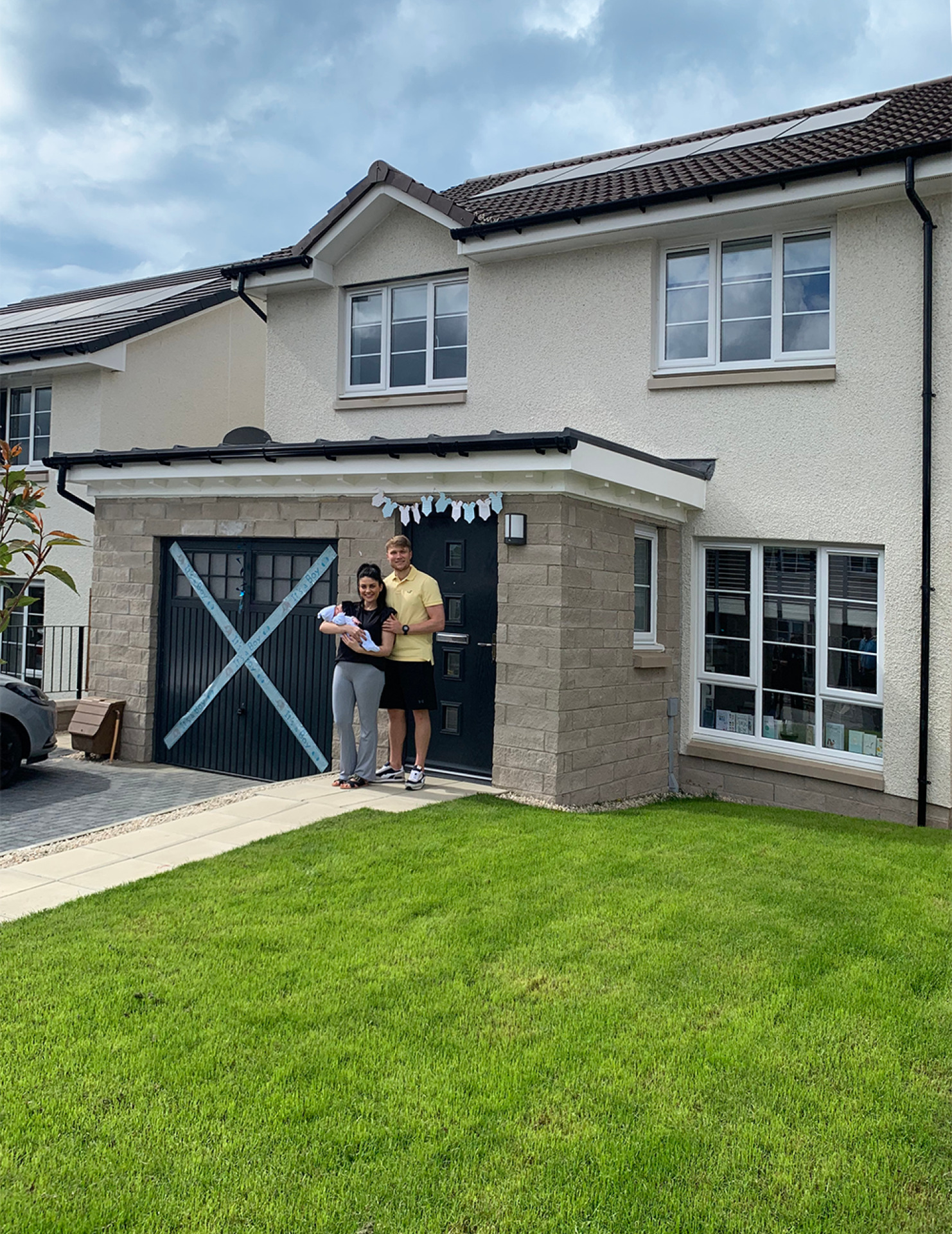 Moving house is a massive life event, especially as new parents, something Andrew and Siobhann found when they picked up the keys to their Dawn home, just days before welcoming their little boy, Finlay, into the world.
We properly started looking to buy our first home together when we learned Siobhann was pregnant with Finlay.
We knew we wanted to stay in the Airdrie area to be close to family and Dawn Homes has an excellent reputation here, but we explored homes on the second-hand market too. For us, a good quality home was a must. We didn't want to have to deal with the hassle of repairs with a new-born baby in the home, and with the increasing house prices on the second-hand market, we decided a new build would be perfect for us as we knew, because of the fixed price, we'd get better value for money.
Dawn ticked these boxes and the location of the Mayfield's development in Glenmavis was perfect. We especially loved the brickwork and how unique the homes looked – we'd never seen new builds quite like it before. We regularly spot home hunters slowly driving through the development admiring the homes and Siobhann's mum says it's so nice it feels like a holiday development.
With Finlay on the way, we wanted to be sure the home we went for would be a home we could grow into. It needed to be detached, with a garage, have good sized bedrooms and a garden too. The three bedroom Cromarty was exactly what we were looking for.
The open plan kitchen and dining room will be great as Finlay gets older, the utility room off the kitchen is handy, so are the three bathrooms, and the living room has a big window which lets in lots of light. Our heating bills are lower than we expected too, which further shows the great quality of the build. My parents have bought a few new builds over the years and regularly say this is the best quality new build they've experienced.
As the Mayfields was still a very new development, there wasn't a show home for us to explore. We looked at the one in the Sidings which was lovely, but we found the virtual tour of the Cromarty on the website really helpful – we actually based a lot of our design choices and furnishings on this.
The Sales Executive, Katie, was very friendly and helpful, keeping in contact with us throughout the journey. She was just a phone call away and was very understanding that we were first time buyers with a baby on the way. She even popped by with a gift for Finlay when he was born.
We knew Finlay would arrive around the same time as us moving in, so we were super organised to make things easier. Siobhann had a spreadsheet with everything we needed, and we bought things prior to getting the keys so we were ready to go.
Come move in day, four days before Finlay arrived, we rallied up friends and family to help move boxes and build furniture. By the time Siobhann and Finlay came home from hospital, the heavy lifting was all sorted. It actually went a lot smoother than people think (and than we thought!) – but that's down to the spreadsheet and the walk-in condition of a newbuild. For new parents looking to move, I'd say organisation is key.
We've been in our home for around 5 months now and Finlay is already king of the house. Most of the rooms are the way we want them with only a few smaller bits for us left to do but it already feels like our forever home.
Andrew and Siobhann
Read next
Mayfields, Glenmavis
Read previous
Mayfields, Glenmavis